A Short History of the El Bethel Church of Christ
The El Bethel congregation first met on April 23, 1961, with 28 members present. It began when several separated themselves from the Horse Mountain church of Christ over the issues of institutionalism. Guy McDaniel was the first preacher. A year later they were having as many as 80 for morning worship. They had 120 present for one Sunday in January 1963.
<![if !vml]>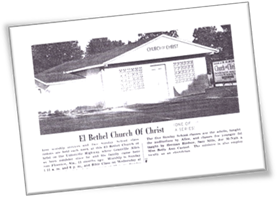 <![endif]>The meeting place: The first meeting place was a remodeled garage that sat in the NW corner of our present parking lot. The property was obtained from the Boyce family (Barbara Baugher's parents, Debi Stanley's grandparents).  In 1971 a new building was built. In the 1980's more classrooms were added (upstairs). In 1995 a classroom wing was built on the back of the building along with larger restrooms. In 2002-2003 a new auditorium was added (seating capacity 265). At the same time, we completely remodeled the old building for classroom and foyer space.
The elders and deacons: Elders were appointed for the first time in March 1996. The first elders were Dave King, George Gibbs, Clayton Curtis, and Padro Featherstone. On May 12, 1996 four deacons were appointed (Ron Flatt, Doug Smith, Jeff Curtis, and Steve Leverette). Steve Leverette and Ron Flatt both moved away. Ron later moved back and was reappointed as a deacon before moving to AL (2003/2004). Dave King resigned and moved to Athens, AL (2000). Doug Smith resigned as a deacon in 2002. Several men were appointed as deacons in 2002 (Dicky Thorpe, Donnie Rader, Mitchell Mooneyham, Jon Chick, Jr, Kevin Gibbs, and Larry Hornaday). We then had eight deacons.  Padro resigned (for health reasons) in July 2003, leaving George and Clayton as the two elders. Donnie Rader was appointed as one of the elders in October 2004. Larry Hornaday and Mitchell Mooneyham were appointed as elders in November 2015. Jeff Curtis resigned as a deacon to go preach at Bluff Springs (2004/2005). In July 2006 Clayton Curtis resigned and left to work with the Shelbyville Mills congregation. In February 2010 Doug Pyrdum was appointed as a deacon. In October 2016 Gary Gibbs, David Gipson and Evan Lancaster were appointed as deacons. In 2020 Evan Lancaster resigned. In September 2021 Kevin Strickland, Shannon Stewart and Dathan Rader were appointed as deacons.
Preachers at El Bethel: Guy McDaniel was the first preacher (April 23, 1961- Not sure when he left). Those that followed were: E. R. Roark (don't have dates on him); Granville Allen (? – Dec. 31, 1967); Raymond Ragsdale (Jan 1, 1968 – Oct. 31, 1970); James Adams (Nov. 1, 1970 – May 31, 1971); L. C. Buttrey (June 1, 1971 – July 31, 1972); Steve Patton (Aug. 1, 1972 – Feb. 28, 1977); Delton Porter (June 20, 1977 – Jan. 15, 1979); Ralph Eldridge (Jan. 16, 1979 – June 10, 1979); Eugene Crawley (June 17, 1979 – Sept. 13, 1987); Andy Alexander (Jan. 17, 1988 – Aug. 8, 1993); Donnie V. Rader (Jan. 2, 1994 – present). There were others who filled in between regular preachers, i.e. Jerry Hale (late 70's).